Five Things You Didn't Know You Could Do At Stor-Age
You may be thinking, "self storage, how much fun can that be?" Well that's what we thought when we started renting space, however it turns out we love it! We get excited about renting space and meeting people from all walks of life to help solve their space problems. There are many things that can be done at your local Stor-Age that you may not be aware of, here are five things you can do at Stor-Age that didn't know.

1. Coffee
Visit any of our stores nationwide to sit down and have a coffee with us. Serving our customers and solving real life issues such as moving home, renovating, getting married or having a baby is what we do. We love doing it and we love to see our customers leave with a smile on their face and relieved that at least one part of the stressful situation is taken care of. Did you know we support volunteers for the Santa Shoebox Project across South Africa? We picked up Suzanne's (a volunteer for Santa Shoebox) conversation on Twitter as she prepared for the event and promptly invited her for coffee.
Watch the video on how Stor-Age is involved with Santa Shoebox.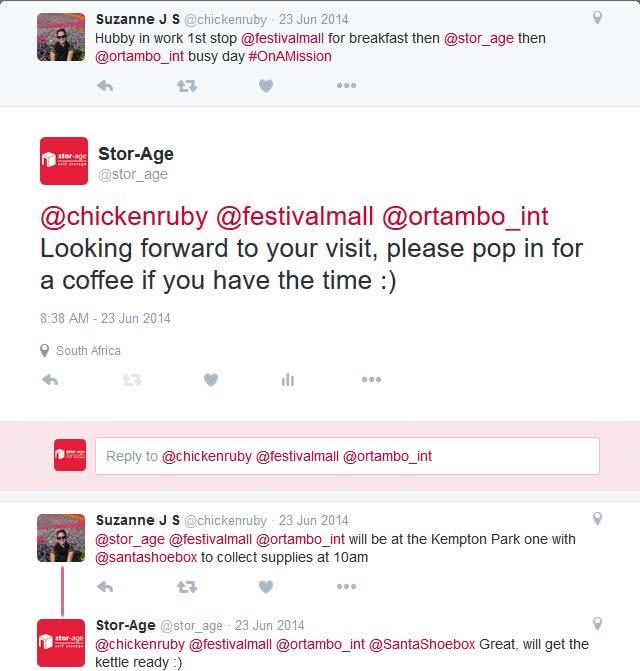 2. Business Centre
Need to shoot off a few emails or check the latest stocks? Maybe you just need to pass a little time on Facebook or want to catch up on all of your social media. The Stor-Age Business Centre is a great spot for you to spend a few minutes with us at no charge. Simply pop in at reception, have a seat and enjoy. Did you know that many small businesses keep their stock with us and make use of our business centre to keep an eye on operations?
3. Bubble Wrap
Because bubble wrap is no fun... said no one ever! This is a great way to keep the kids amused while you are busy making sure all of your valuables are safely packed away. Pop into our reception and pick up a pack of bubble wrap to keep the kids entertained... don't worry we have plenty more if you feel the need for an extra roll for yourself too!
Check out our packaging prices.
4. Trolleys
These are extremely handy when you want to move your goods in or out of storage but they are also fantastic for the kids to ride on. We spotted David and Zoey Thompson at Stor-Age Table View doing exactly that. The Thompson were returning from London and needed some self storage space until a permanent home was found. We like to think the trolleys made the decision a little lighter!
Check out the other benefits of self storage.
5. Get boxed!
We sell boxes! Not just for moving home but for any other DIY project you may have, such as cleaning and sorting the garage, taking items to charity, school projects and any number of other uses where a box would come in handy. Visit any Stor-Age branch nationwide where we will be sure to have stock of various sizes to suit your needs. Did you know we even have a hanger box to hang your clothing and prevent creasing?
Check out our storage packaging boxes.


Posted by Stor-Age Self Storage - 29 April 2016 | Take A Break