Five Tips To Make Your Home Say "Buy Me"
We asked an estate agent for some handy tips and hints to sell your home. Here is what they had to say. "Besides the obvious, there are a number of things that a Seller can do in order to gain an advantage over competing property sellers, and command a better selling price. Here are 5 practical, easy to do steps, you can take…
1. First impressions are lasting impressions
What do your neighbours see?
– What first impression will a buyer get when arriving outside your home? 'Pavement appeal' could be the critical factor that determines if the first impression is a good one or not. A manicured garden, and clean windows and walls add to the appeal of a property and creates a desire for a potential purchaser to see more. Buyers often opt not to enter a property if they don't like what they see from the outside.
What do you see?
- Do an objective inspection of your home, see it from a dispassionate perspective. Notepad and pen in hand, inspect both the inside and outside of your house, noting all the 'little' things that could create a bad first impression, then fix it.
What will a buyer see?
– Get a 2nd opinion on the condition of your home by having an independent party do an inspection of your property. An experienced estate agent no doubt is always the best person for the job. Listen, and do what you can to remedy the negatives.

2. A little grooming goes a long way
Lose weight
– Cupboard and closet space is extremely important to buyers and will be something they will be looking for specifically. Buyers will snoop, so make sure that your cupboards and other storage areas are clean, tidy and half-empty. The more personal stuff in your house, the less potential buyers can imagine themselves living there.
Apply make-up
– (The pretty ones always sell first) A good clean, and cosmetic touches like a little paint can make a big difference. It is said that the kitchen and bathroom/s are the rooms that sell a house, if you're going to do some grooming, start there. Don't overdo it though, overcapitalising by spending too much money on make-overs or renovations is never a good idea, you won't get it all back.
Deodorise
– Nothing is more off-putting for a potential purchaser than a bad smell. No matter how beautiful your home is, if it smells bad, it's ugly. Here again, the kitchen and bathroom/s are the usual culprits, keep them fresh with scents that are not overbearing such as lemon or vanilla.
Dress well
– Declutter, pack away, clean-up, and restrain the pets. As much as you love your pets, the reality is that visitors to your home need to be able to view your property without being distracted or hindered in any way. Purchasers need to be able to move through your home unhindered, store your excess goods and furniture. Self storage units are really the safest place you could possibly leave your things, allowing you unlimited access to your personal belongings.
3. Don't cut your own hair
Get professional assistance – Although you could try and sell you own property (or cut your own hair for that matter), the purchase and sale of property is a complex transaction requiring specialised skills and knowledge. Among other things, the expertise, experience and know-how that an estate agent can bring to the process will help reduce some of the risks involved and avoid unnecessary stress when selling. An experienced estate agent will know how to market you property in such a way that it says "BUY ME" and in so doing attracts the maximum number of pre-qualified buyers.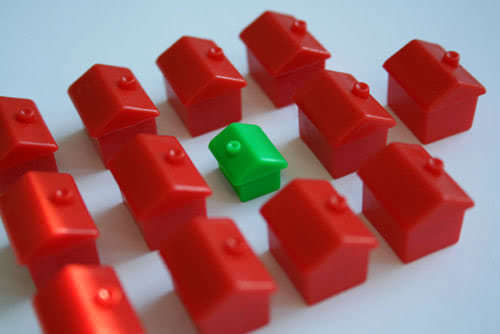 4. The Goldilocks effect
Too hot
– Multi-agency / Network marketing (many agents working on your property) could stop your property from selling.
Overpricing – An estate agent could overprice your property in order to secure a mandate. Overpriced property does not sell.
Overexposure - Repeated listing of your property by multiple agencies, at different prices, smacks of desperation and appears as an opportunity for the buyer to get your house cheap.
Negative comparison – Estate agents could use your property as an 'over-priced' comparison to sell their own sole mandates.
Too cold
– Multi-agency / Network marketing (many agents working on your property) could lead to lower offers:
First-come – Multiple estate agents could be competing for commission, not a 'best offer wins' offer (any offer will do).
Win-lose – A quick sale at the expense of the best selling price is always in the buyers' best interest, not the sellers.
Just right
– Exclusive agency marketing (one dedicated agency working on your property) will lead to a better outcome for you the seller:
Accountability – The estate agent has to perform contractually, ensuring maximum effort and extensive marketing of your property at the correct listing price, upping your homes 'BUY ME' appeal.
Best offer wins – The buyer is pre-screened so as to not waste your time, and sees your listed price as 'non-negotiable'. Buyers compete for your property as opposed to estate agents for a 'first-come first-served' sale, ensuring a top selling price for your property.
5. Be flexible
Bend a little
– Including non-fixtures and fittings in the sale that 'fit' your home, could add 'BUY ME' appeal to the buyer. Plants and shrubs, irrigation systems, satellite dishes and the like, should not be the negotiating point that loses you the top price for your property.
Touch your toes
– Go a little further than your competing sellers, include the big screen TV if that is what the buyer wants (if the price is right of course). Sweeten the pot by giving the buyer that something extra that incentivises a higher offer being made.
Stretch
– Give potential buyers time and space to view your property at their leisure. Let them place their furniture and plan their lives in your home, envisaging it as their own. A cup of tea and a non-contractual chat will do no harm."
Timothy Smith is a Property Consultant at Rawson Properties Bothasig. He is a Certified Residential Specialist and the recipient of the prestigious ABSA Bank "Best Customer Service Provider in the Cape" award. With more than R60 million in residential sales under his belt, he is acknowledged by his peers as one of the leading estate agents and a neighbourhood expert in his sales sphere.


Posted by Stor-Age Self Storage - 27 February 2015 | Tips And Hints