I miss my garage!
So do you have everything in your garage except your car? Or maybe you get your car in and then struggle to squeeze out the door as there is no space. Most of us don't enjoy chipping ice off the windscreen, or blasting the aircon to get a little heat in the morning. Thank goodness it is coming up to summer now. However we still blast the aircon to get cooler after the car has been baking in the sun.
Get your garage space back by taking a look at how you store the items that are in your garage. The cheapest option is to install shelves. A plank of wood and a wall bracket is all that is needed to get items off the floor and up on the wall so you have more space for your vehicle. To make things look even neater you can install cupboards, so that you won't see all the clutter that is on shelves.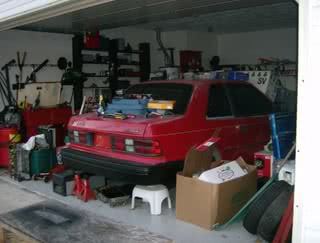 Remember that often garages have more height than you need, this means you could install a mezzanine floor or drill in hooks to mount bicycles up above where you park your car. The most expensive, but perhaps cleanest, option is to invest in a small tool shed. Now you can get all of the clutter items out of your garage and get your parking space back. Off course some people don't have the space to put the shed and this is where a self storage unit comes into it's own.
A self storage unit is convenient, you only need to rent the space you need and not a whole garage. You can store all the items you don't often use and keep items you use more often, like surfing gear in the front of the unit. All those Christmas decorations and old toys can now be put away and allows you to store a much more valuable asset... your car.


Posted by Stor-Age Self Storage - 26 September 2011 | Tips And Hints