Five Tips When Selling Your Home
If you have ever moved home you will know that finding a new place is not always about the economics of the move. You want to make sure that your new house can also be your home. Whether you are looking to sell, buy or rent property there are a few areas in the house that many people look for when viewing a potential new home. Getting a few things right can mean the difference in getting a property sold at a good price or at a great price. Here are five tips and hints for you to make note of if you are looking to sell your home.
1. Declutter
Nothing says I don't want to live here than a messy house. Try and declutter the home by removing any excess items and ensure the entire house is well cleaned. It is advisable to sell your house with furniture still in place as this gives the seller an idea of what their furniture will look like, however having extra boxes or ornaments around can make the rooms look smaller and messy. Rent a self storage unit for the period of your sale and keep all of your goods safe and your house clean.
2. Excellent photos
The first thing that many prospective buyers will see of your home is the pictures online. It is vital that these are well taken and show the rooms as large as possible. The pictures should show a clean and well-lit home and draw the buyer in to wanting a visit. Poorly taken or hazy pictures means you could lose the sale even before the buyer visits your home.
3. First impressions matter
Speaking of first impressions, the entrance to your property should be well kept. Take a look from the buyers' perspective. Where will they park, what is leading up to the front door, what is the first thing they see when entering the home? It may be worthwhile to cut down trees or trim lawns near your property that do not necessary even belong to you. This is about making the buyer feel like they are arriving at their own new home.
4. Bake
Much research has been done on the association of smells with home and relaxation. Many agents will recommend you put on a pot of coffee or bake some bread to give the house a smell of being a home. If you cannot find the time or are simply not that talented in the kitchen then some automated air-fresheners should do the trick. Once you have the visual and smell senses taken care of a property becomes much easier to sell.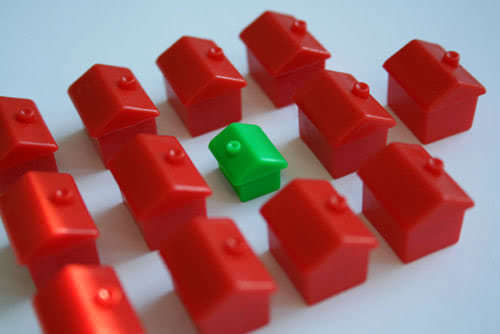 5. The garden is as important as the house
So you have ticked all the boxes, the house is looking clean, smells great, is clutter free and you have even completed some minor repairs. The last thing you want is for the buyer to walk out into a garden that has not been tended to. A quick cut of the lawn, water and trimming of bushes can do wonders for the aesthetics of a garden. One last top tip is to churn the soil to give it a fresh and well looked after appearance.
If you are going to use some self storage space to clean up your home before the sale, check out our
handy self storage tips and hints
section for how to pack your self storage unit and maximise the space you use.